How to Choose your Theme for WordPress
Knowing how to choose your theme, for WordPress, can be scary, and very difficult. With, literally, thousands of themes to choose from – many of which are free, and many premium – how do you know which one is right for your website?
I've helped create numerous WordPress websites which gave me a lot of experience finding the right theme for that specific website.
Did I always choose that one theme that is the absolute best theme for the website I was working on?
No, not always.
But the cool thing about WordPress is that, if you don't like the theme you can change it with just a few clicks! You don't have to get it exactly right the first time.
Disclaimer: I would not go changing your theme willy-nilly, more than once every few years. Your readers like familiarity and consistency and keeping your theme for a long time helps portray those qualities. Inversely, constantly changing your theme will confuse your readers and tells them that you don't really know what you're doing.
Know How to Choose your Theme When You have Thousands of Choices
Over the years, I developed a formula. I use this formula for every project and if I don't see a specific theme in my search results I don't waste my time considering it.
And that's the other part of this process: Don't waste your time evaluating every theme to find the perfect fit.
Don't waste your time evaluating every theme to find the perfect fit. Click To Tweet
There's thousands of choices and you only need one. Just pick a theme and move on or you'll never launch your website. As an added bonus, you'd be surprised how much stress this idea removes from the launch process.
The Formula for How to Choose your Theme
Here's the magic of how to choose your theme for WordPress:
Google search "WordPress <free/premium> Theme for <Niche> responsive"
You'll see websites that list related themes. Use either free, or premium, as your price point and the niche your website will be targeting. I'll explain each keyword in more depth, but if you stick with this basic formula you're search will instantly be narrowed from thousands of possibilities to less than one hundred (and, likely, less than twenty).
Twenty themes can still be a lot to choose from. This is why I don't sweat the small stuff; if a theme doesn't speak to me I move on to the next one.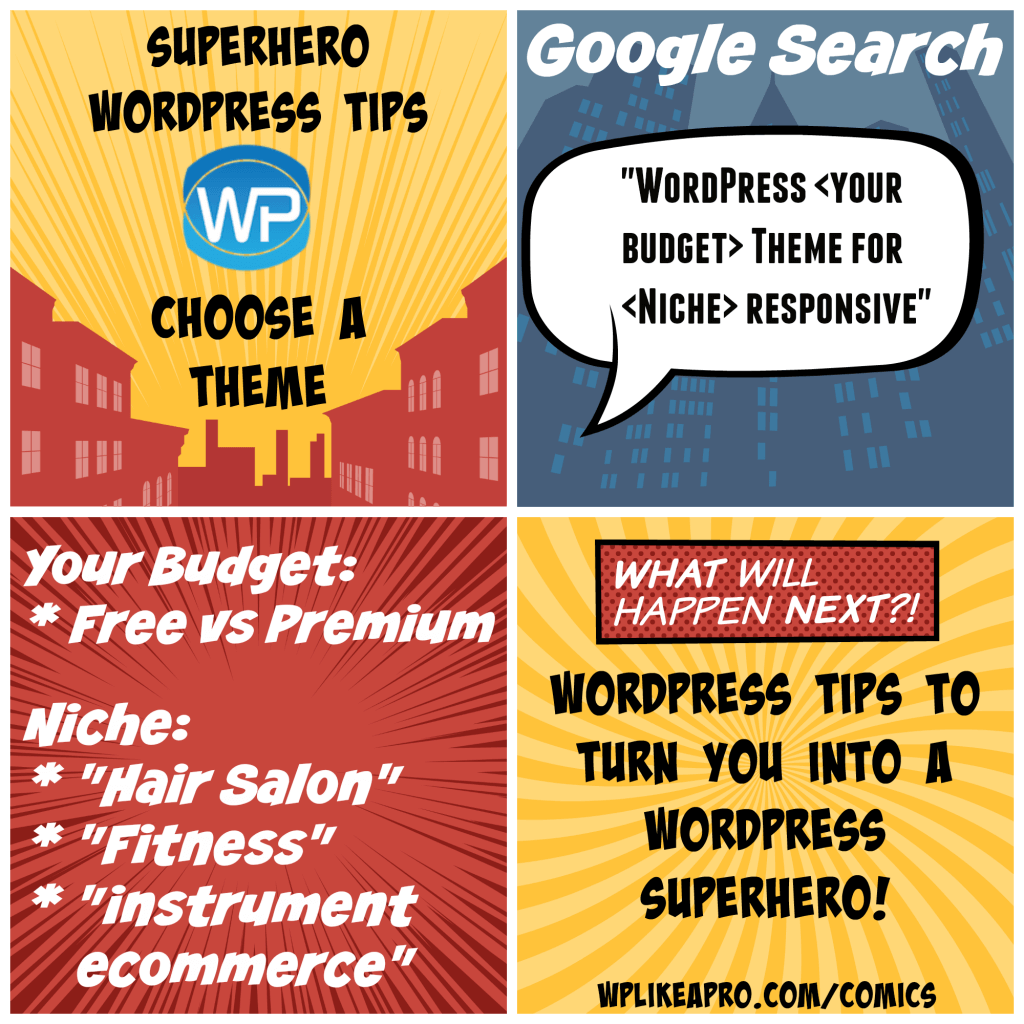 How to Choose Your Theme on Your Budget
There's two basic categories for WordPress theme budgets: free, and premium.
Free generally means "as is" with no support outside the WordPress forums but free theme updates as long as the developer wants to work for free.
Premium usually means a better quality theme, with more bells and whistles (that you may not need) and ongoing theme support. The average price of a premium theme is $40 according to Code In WP.
As you may guess, while free themes may be cheaper it may be more difficult for you to manage since you will essentially be on your own. Keep this in mind when hunting for your theme. $40 is a reasonable price to pay for a helping hand that makes your life easier.
What is "Responsive"? Why should I care?
"Responsive" means that your website will look good on mobile devices too. Most themes already do but if the theme you pick isn't responsive it can be a real pain to make it responsive and often requires hiring a WordPress developer.
'Responsive' means that your website will look good on mobile devices too. Click To Tweet
Why should we care?
According to Smart Insights, a Marketing company, over 50% of web browsing takes place on mobile devices! So if your website is not responsive (aka "Mobile Friendly") then over half of the people coming to your website cannot use it.
Think about this: If you came to my website on your phone or tablet, and couldn't use my website, you would probably leave and never come back.
If your blog is not Mobile Friendly, over half of the people coming to your website can't use it Click To Tweet
Other Features You can Search For
But you can add other important features to your Google search in addition to "responsive". That depends on what you want to accomplish with your blog.
Do you want a fancy looking "image slider" on your homepage?
Or a "background video"?
Do you want to sell things on your website (that's called "ecommerce", and "woocommerce" is a well-known ecommerce plugin for WordPress that you could include in your search terms.
Maybe you want a theme that has a built in "photo gallery"?
Adding Additional features in your Google search is completely optional. And, in fact, it may be better to include those features via a plugin rather than having them built into the theme. If that's the case, save that feature for a different search.
Case Study: How to Choose Your Theme to Sell Instruments Online
I learn better by example. So that's what I'm going to do here, for you.In this case study, I want to create a website to sell instruments online. This would help my imaginary instrument store at the local mall reach a larger audience (world-wide).
Here is a Google search where I show an example (with the help of our friends at Let Me Google That For You) of searching for a WordPress theme that targets instrument related features and styles. I'm using the formula I've talked about by searching for WordPress theme instrument responsive.
You may notice there are a lot of search results about artists, or even Spotify themes. That's not what I really wanted. When googling, put a dash in front of words you want to exclude from your search (for example: bands, artist, Spotify and Pandora). Here's an example of of searching for a WordPress ecommerce theme with instrument related styles, product descriptions, etc that excludes search terms about music artists and online music websites. You'll notice that the search results are very specific to your exact needs.
Conclusion
Knowing what you want your website to be about is helpful when looking for a theme. But it's just as important to know how to choose your theme. Knowing both of those will help you make a better choice, faster.
So what type of theme are you looking for? Are you still having trouble finding what you need? Let me know in the comments; I'd love to help!